As a climber if you are looking to jam some cracks or clip some bolts in the Tieton you will have no trouble finding information about where to go and get your fix. Between the Tieton River Rocks guide (Ford/Yoder 2004) and Mountain Project there are enough climbs documented to keep you busy until your arthritic digits can no longer crimp. But what if you are into bouldering? Is there even anywhere to go bouldering in the Tieton?
The answer is yes. And some of it is actually pretty good too. So if you are itching to make three really hard moves before loosing your grip and cheese gratering your knuckles, you are definitely in luck. While not as concentrated and high quality as Leavenworth, the Tieton bouldering has it's own charm, the rock has a unique quality, and if you live in Yakima it is by far the closest bouldering to town.
In this post I will point you to some of the boulders, it is not intended to be a comprehensive guide to bouldering in the Tieton, simply an overview of some of the areas and problems to get you started.
As always, enjoy these unique and beautiful spots, but pack out all trash and stick to established trails and landings so the rest of us can enjoy them too.
Lower Tieton Bouldering (the LTB)
The bouldering closest to town is concentrated along a three mile stretch of the Tieton River Trail between the Bend parking area (with the Quonset hut) and the Moon Rocks parking area (a large parking area two miles further West along Highway 12). Both of these parking areas require that you display a Discover Pass when parked or you may be ticketed. There are three different bouldering areas along this stretch of trail; the Cozies, Machine Shop, and Porch Boulders. Which direction is best to approach from depends on your objective for the day.
The Cozies
This is an aptly named band of overhanging cliff tucked back in the trees just off the trail about a mile East from the Moon Rocks parking area and is most easily approached from there. It is a pleasant hike or run on flat terrain and a comfortable spot to climb.
I am not sure of the history, but this band of cliff has been frequented by locals for decades. There are no established problems, you can either make up your own or work on your endurance and technique by traversing across the 50 foot overhanging cliff. The landing is flat and there are no top outs so you don't need a crash pads to enjoy this beautiful spot.
The Machine Shop
Another half mile East from the Moon Rocks parking area tucked back in the trees is less a pleasant cliff. The Machine Shop is a shorter, steeper, and buggier place to hone your skills on overhanging rock. It is easy to walk right past this cliff as it is tucked into the trees on the South side of the trail, so you will have to watch for it.
Again, I am not sure of the history but this cliff has been in service for a long time. I don't know if there are any established problems, but there are plenty of chalk marks. It is a steep cliff with small holds, so back slappers are possible, you will want to bring a crash pad for climbing here.
The Porch Boulders
Located a mile West from the Bend parking area, tucked back in the trees, lies a rare occurrence in the lower canyon. A collection of three room sized boulders. These boulders feature unique rock and a collection of challenging problems with interesting and sometimes sharp pockets and edges. Most of the problems have slabby top outs, good landings, and easy walk offs. Crash pads are recommended.
These boulders may have been overlooked for years due to their location back in the trees, which makes them difficult to see from the trail. They are still see relatively little traffic and may be dirty, so bring a brush. While not worth making a trip across the state for, if you live in the area they are definitely worth checking out.
The Trail Boulder
This is the only Porch Boulder visible from the trail. When hiking West from the suspension bridge after about a mile you will see it on the left just above the trail. Follow the game trail up to the base of the boulder. There are currently three problems located on the South West end of the boulder, an easy walk off of the back, and an unknown quantity of marmots living underneath.
Unnamed – V4 Stand start in a sharp flake feature on the left with awkward feet, throw to the large sloper sidepull out right, make a couple of bumps to easier ground and a juggy top out.
Reach Around – V3 Climbs the corner working the right arete and edges and shallow pockets on the face, finishes with an exciting top out. Good foot work is crucial on this one.
Get it While You Can – V3 A short problem on sharp sometimes flexing holds. Sit start using the thin crack on the left, make a few moves on questionable crimps out right, then set up for the big throw to the lip. How good is that last hold? Should I go left or right? Either way, it's good!
The Porch Boulders
A few hundred feet West of the Trail Boulder in the trees lie two more large boulders, one of which features the distinctive porch. These boulders contain a collection of challenging problems with great landings, and easy walk off descents. There currently is not a trail connecting the Trail Boulder to the Porch Boulders. Just wind your way through the brush and boulders snagging your crash pad on every tree.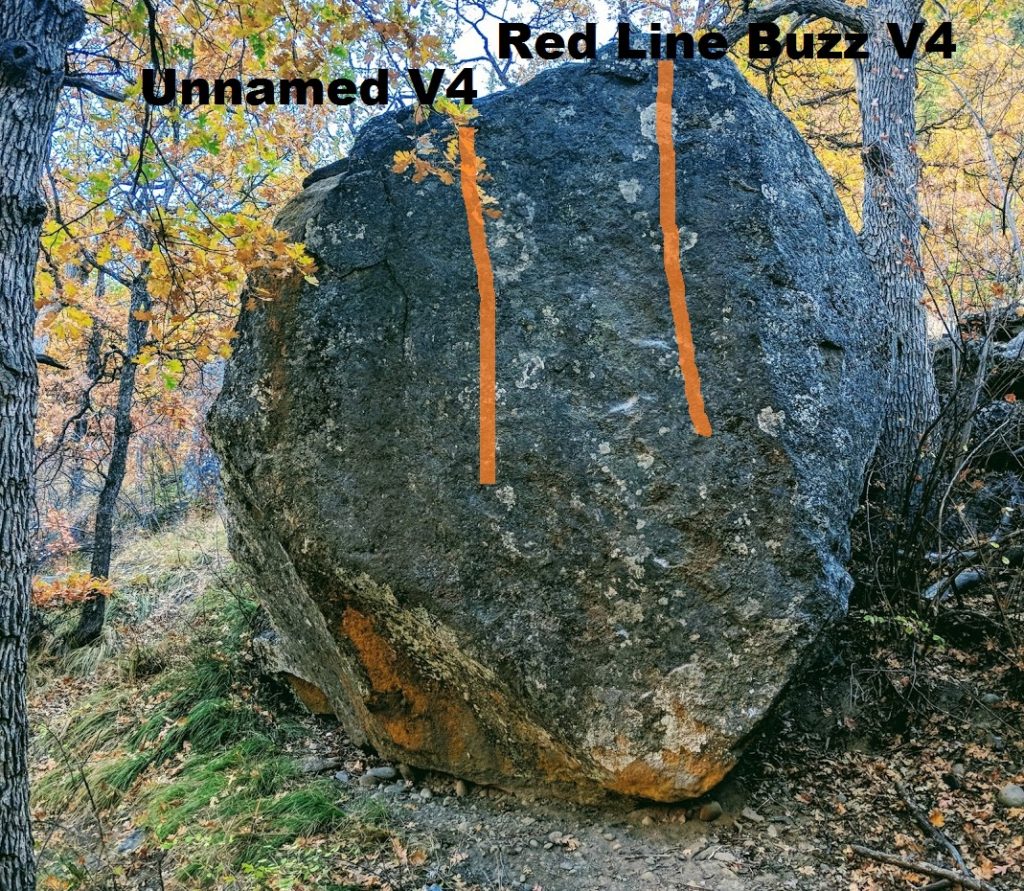 The Small Boulder
Red Line Buzz – V4 Climbs the right face and arete. Pull yourself on the boulder on a small hold around the right side and a well chalked left hand crimp, make a few strenuous barn doory moves using small holds on the arete and crimps on the face, pop to the left hand jug and top out.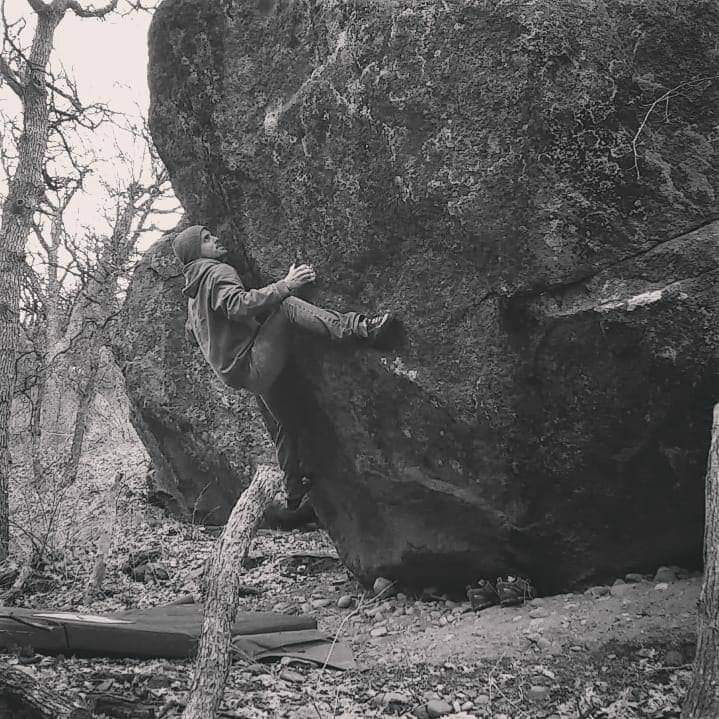 Unamed – V4 Climbs the center of the face on tiny crimps.
The Large Boulder
Unamed – V4 (not shown – across from Red Line Buzz) Climbs the center of the face on crimps and pockets, make a reachy move to a high pocket then enjoy a slabby top out.
Caesar's Last Ride – V5 Climb the left side of the steep arete on pockets, make a wild move right onto the slab for an exciting finish. Named after Chip Powells truck "Caesar" that burned up in the Moon Rocks Parking area a few days before he made the first ascent in 2017.
Walkabout – V8 A steep and intimidating line on small crimps and pockets. Climb it, if you can. Corbin Strunk worked on sending this problem for years, eventually snagging the FA in 2018. To my knowledge it has yet to see a repeat.
Black Hole Theory – V4 A fine problem on good rock. Sit start on the sloper ledge. Match on the crimp above up to a good gaston. Establish your feet on the ledge and move right on good holds to a comfy mantle.
---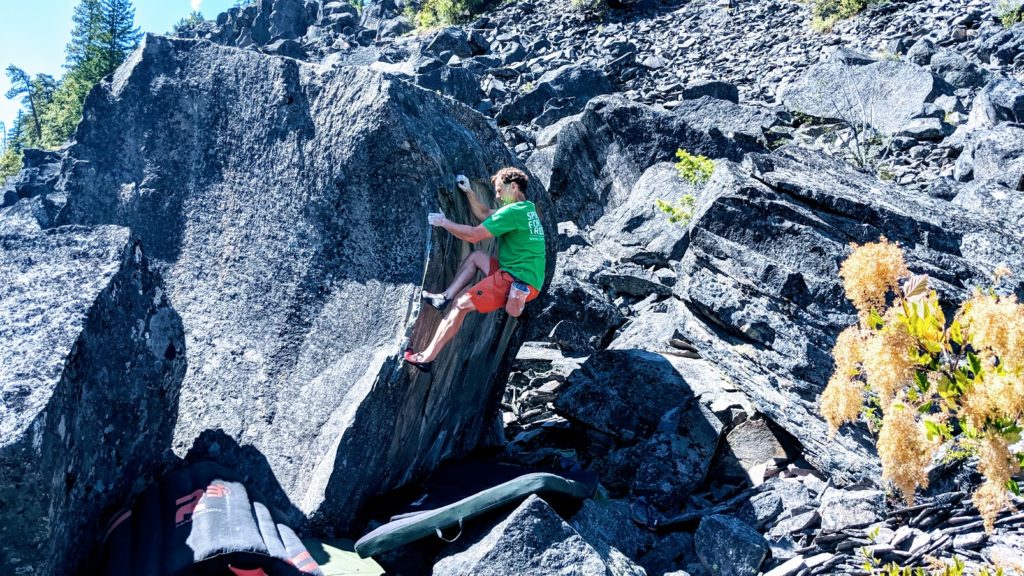 Upper Canyon Bouldering
About an hour from town, further West on Highway 12 near to the Rimrock reservoir there are allot more boulders than in the LTB. Most of them are concentrated in a few large talus fields. Stay tuned, throughout 2020 I will post details of more bouldering areas.